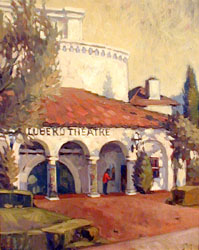 Phone (805) 745-8766
whitney@wbabbott.com
www.eastongallery.com
Painting is learning says Whitney Abbott. "Every new painting is a new way to look at life. It is an adventure, a poem, or a puzzle. I really believe that the challenge which painting brings keeps us alive and curious. It is the closest thing to the sense of discovery and freedom you find as a child exploring a forest. John Muir wrote in a journal in 1913:" "I went out for a walk, and finally concluded to stay out till sundown, for going out, I found, I was really going in."  Whitney is a member of the Oak Group and is represented by the Easton Gallery in Montecito CA.