Plein-Air Painters of America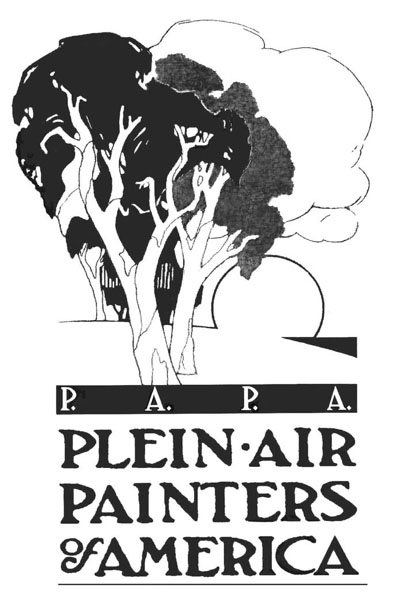 PO Box 32270, Santa Fe, NM 87594; susanhmcgarry@pleinairpaintersofamerica.com,
The  Plein-Air Painters of America set the stage for today's plein-air groups. Its  inaugural exhibition in 1986 took place on Catalina Island, CA. During that and succeeding exhibitions on Catalina, PAPA artists painted for a week prior to the opening event, exhibiting their "wet paintings" at the Catalina Art Association, which hosted the annual exhibition through 1997. In 1998 the nonprofit Society for the Advancement of Plein Air Painting was formed and served as the exhibition host in Catalina through 2003.
Since then numerous nonprofit museums and organizations have benefited from PAPA exhibitions and workshops, including The Haggin Museum, Stockton, CA, which hosted the 2009 American Legacy: Our National Parks (touring through 2013). PAPA's upcoming exhibition, The Allure of Water, opens at The Haggin October 15, 2011.
Guest artists are invited to exhibit with the group, which comprises the following members.
Signature Members: Ken Auster, Kenn Backhaus, Christopher Blossom, John Budicin, Scott Burdick, John Cosby, Gil Dellinger, Don Demers, Louise DeMore, Gay Faulkenberry, West Fraser, Lynn Gertenbach,  Raleigh Kinney, Frank LaLumia, Joan M. LaRue, Jean LeGassick, Kevin Macpherson, Joseph Mendez, Ned Mueller, Ralph Oberg, Joseph Paquet, Jean Perry, Ron Rencher, Ray Roberts, Jane Shuss, Matt Smith, Brian Stewart, George Strickland, Linda Tippetts, Skip Whitcomb. Honorary Member John Stobart. Emeritus & Deceased Members: Peter Adams, Betty Billups, Denise Burns, Mary DeLoyht-Arendt, Glenna Hartmann  (1948-2008), Marlin Linville (1950-2001), Charles Sovek (1937-2007), Stan Sampson (1933-2008).